Capacitive SENSORswitches
Fully electronic switches with touch sensor technology
The first capacitive switches with touch sensor technology from CAPTRON were used in 1994 for public transportation. Today, CAPTRON offers a wide range of capacitive SENSORswitches for various industries and applications where unconditional reliability, durability, comfort and design are required.
In addition to a wear-free and maintenance-free electronics, the SENSORswitches have a very robust and vandal-proof design. Their 100% water-and oil-proof construction will resist even the most adverse environmental influences as well as industrial effects such as dirt, dust and chemicals.

The versatility of SENSORswitches means that they can be used almost universally with different shapes, materials, connection types, installation types, installation depths and specific standards and requirements.

If necessary, SENSORswitches from the standard range can be tailored and modified optically and technically to meet individual customer demands.

MAIN APPLICATION AREAS

Industrial Automation | Traffic & Transport | Plant- & Mechanical Engineering | Food & Beverage Industry | Pharma & Chemical Industry | Commercial & Special Vehicles | Building Technology | Leisure & Entertainment Industry
Downloads Capacitive SENSORswitches
Product series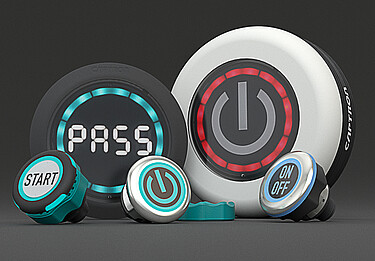 New: The CANEO series with IO-Link
The new HMI standard capacitive switch combines innovative design with the possibility to freely configure all function parameters via IO-Link – from switch sensitivity, actuation type, minimum actuation time, to choosing the right fluorescent colors from 16 million options. The CANEO series can be flexibly integrated into networked environments, offering major benefits for all HMI applications covering a wide range of requirements.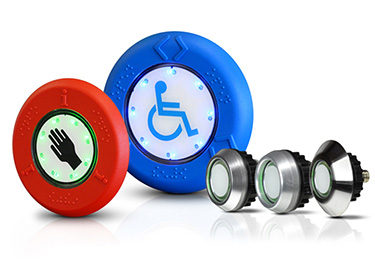 CHT series: modern and versatile
CAPTRON´s CHT series offers a wide range of easy-to-operate capacitive switches that feature an extremely long service life. Their robust, 100% water-proof and oil-proof design withstands tough environments, as well as the most adverse of weather conditions, making them ideal for engineering, industrial, transportation and building technology applications.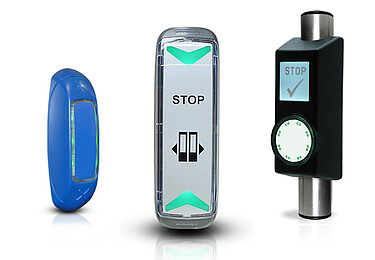 HWT series: Stop request button
CAPTRON, pioneered capacitive stop request buttons for public and private transportation. The maintenance and wear-free HWT series sensors ensure maximum reliability in continuous everyday use. Their innovative design is especially user-friendly, vandal-proof and also available with raised symbols for the visually impaired in accordance with TSI PRM.