Two-hand control safeCAP
Safe operation of machines and systems.
CAPTRON, pioneer of the first capacitive two-hand control system, ensure the highest safety category according to (Cat. 4) and PL e (DIN EN ISO 13849-1). The capacitive "safeCAP" two-hand control allows heavy machinery and systems in automated production plants, such as presses and punches, to be controlled safely and without pressure.

To start the machine the user simultaneously presses two capacitive buttons which are connected to a safety relay. Incorrect or inattentive control using just one hand or with another part of the body is detected by the system and the machine is not started.

CAPTRON supplies the safeCAP two-hand control with additional safety elements such as the Protector or the control desk for tabletop installation. These combinations enhance protection and are certified to DIN EN 13851. The dynamically switching SENSORswitches detect interference factors such as dirt, dust or foreign bodies. The switches can be actuated using disposable or work gloves, however.

The fully electronic design of the SENSORswitches especially designed full every day fatigue-free continuous use and features extreme durability, reliability and robustness. The user receives optical feedback through LEDs.

CAPTRON can provide individual advice to enable you to choose the perfect product for the required specifications and applications. Contact us: CAPTRON service.
Downloads Two-hand control safeCAP
Product Series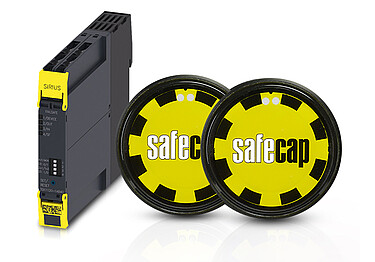 New: SC30 (according to EN 13851)
Ø 50 mm switching surface
Single channel and dual channel available
Compatibility to safety relais
Certified by TÜV SÜD (EN 13851)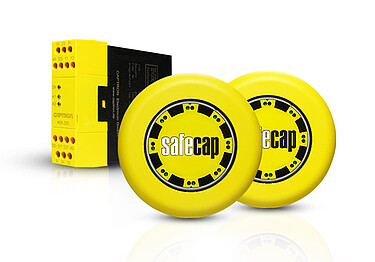 SC4
Ø 63 mm switching surface
Certified according to PLe (DIN EN ISO 13849-1)
Compatible with MCR-225 safety relais
Typ III C certified according to DIN EN 13851